About Connie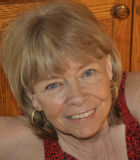 Connie Flynn is the bestselling author of ten romance novels, including romantic suspense, romantic adventure, romantic comedy and paranormal romance. With the publication of the "fabulous" and "remarkable" Shadow on the Moon by Penguin/Topaz in March of 1997, critics called Connie Flynn "a talented writer" and "a rising star." The tale of a tormented werewolf recluse and the exceptional woman who redeems him, this book was featured in several bookstore in-house magazines and finaled in three national writing contests. It was quickly followed by three more paranormal romances. Shadow of the Wolf, a sequel to Shadow on the Moon, starred that book's villain, Lily DeLaVega, as the heroine. "A risky act," declared Romantic Times, the top review magazine in the romance genre, adding that "Flynn succeeds brilliantly."
The Fire Opal, a dark paranormal featuring a deadly phantom, made several national bestseller lists and was one of Ingram Books' (a top national book distributor) 50 most requested titles. It also garnered many rave reviews on the Amazon and Barnes & Noble sites.
Next was The Dragon Hour, a time travel novel with a twist in which 17th century Scotland mysteriously opens up onto modern-day Central Park. The Dragon Hour received a 4-1/2 Star, Top Pick recommendation from Romantic Times and won The PRISM Award from RWA"s paranormal chapter for that year's best time travel.
Connie has recently reissued these titles in eBook format. The werewolf series is also available in print and audio book. She recently published her first book as an independent author, a romantic suspense entitled Know When to Run, and will be launching a brand new series of first person cozy, zombie time-travel mysteries starting this fall. She has indeed let her imagination go wild.
In the meantime, she has just received the return rights for her entire collection of Harlequin books and will be reissuing them throughout the remainder of this year.
Connie began her career with Harlequin Superromance using the pseudonym Casey Roberts. Filled with romance and suspense, these books received their own quiet acclaim, including a spot on the Waldenbooks bestseller list for her second book and a film option offer for her third. She went on to write two shorter romantic comedies.
Before selling her first novel, Connie was a graphic artist who later moved into management and she thanks the down-sizing trend for launching her career. Her uncertain job future sent her searching for "what I wanted to be when I grew up." After a series of aptitude tests, she re-discovered the writing talent she'd abandoned in the fourth grade, and went directly to the computer. In 1988, Harlequin purchased the results HOMECOMING a contemporary Romeo-and-Juliet story set on a Wyoming ranch.
A member of Romance Writers of America and Sisters in Crime and Thriller International, Connie is active in several local chapters. She also teaches independent workshops and gives presentations on novel writing and creativity.
Connie makes her home in Scottsdale, Arizona, one of the state's rare natives. Every summer she swears she'll move to a cooler climate. Then comes winter and she never wants to live anywhere else.
---
Contact Connie
EMAIL: Connie at connieflynn.com
Twitter: @connieflynn
Facebook: facebook.com/connie.flynn.378